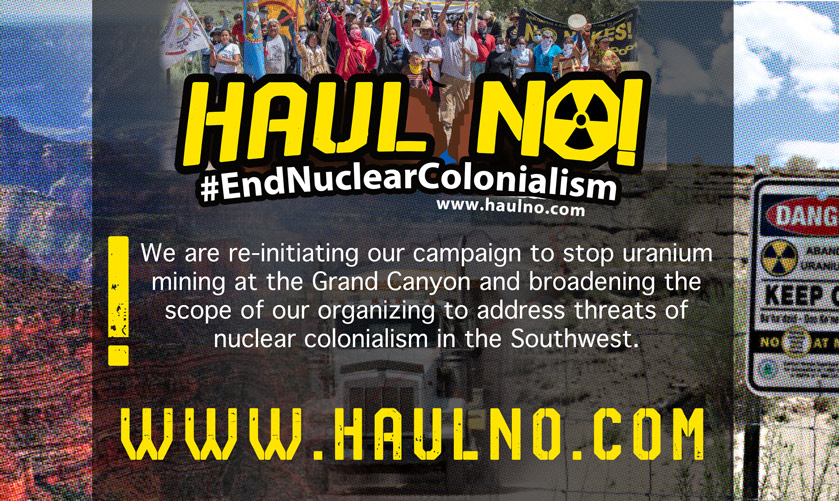 URGENT ACTION ALERT: Support Diné Community Resisting "Unacceptable" Uranium Mine Cleanup – COMMENT DEADLINE May 27, 2021
Read our April 2021 Announcement Re-initiating Our Campaign here.
Please check our Facebook Feed for updates:
www.facebook.com/HaulNo
Haul No! is a volunteer Indigenous-led group collaborating with Indigenous communities and leaders, environmental organizations, and community-based advocates working to stop nuclear colonialism in the Southwest.
Haul No! Action Statement
We intend to spread awareness and stimulate action to address threats of nuclear colonialism in the Southwest which include: uranium mining and milling, transport of radioactive materials, cleanup of abandoned uranium mines (AUMs), and basically the entire nuclear fuel chain from uranium extraction to nuclear weapons and energy development and waste storage.
We organize to uphold Indigenous sovereignty with a culturally-rooted framework that focuses on the intersections of environmental, climate, and social justice for a just and healthy future.
In 2017 we organized an awareness and action tour along the proposed uranium haul route of the Canyon Mine (now rebranded as "Pinyon Plain" Mine). For our efforts we refer to it as "Pinyon Plain/Canyon Mine."
Haul No! exists to spread awareness and stimulate action to ensure sacred sites, the Grand Canyon, and our communities are safeguarded from this deadly toxic threat.


Pinyon Plain/Canyon Mine Haul Route Facts:
Total distance of 300 miles 

12 trucks with capacity to haul up to 30 tons of highly radioactive ore per day

Truck loads to be covered with thin tarps, the only shielding from uranium and only protection from environmental contamination

Proposed route will go through high population areas such as Valle, Williams, and Flagstaff; as well as through rural Navajo reservation communities including Cameron, Tuba City, and Kayenta; near the Hopi reservation, and finally arrive at Energy Fuel's White Mesa Mill only three miles from the Ute Mountain Ute tribal community of White Mesa, Utah.

Read more facts here.