PRESS RELEASE
Tuesday, November 7, 2017
Contact: Klee Benally
stopcanyonmine@gmail.com
www.haulno.com
City of Flagstaff Passes Resolution Opposing Uranium Mining & Transport
Commits to State, Federal, & Municipal Legislative Action
*Attached photos credit: Caleb Eckert
You can read the approved resolution here (PDF).
Flagstaff, AZ — The Flagstaff City Council has passed a resolution opposing uranium mining and transport from the C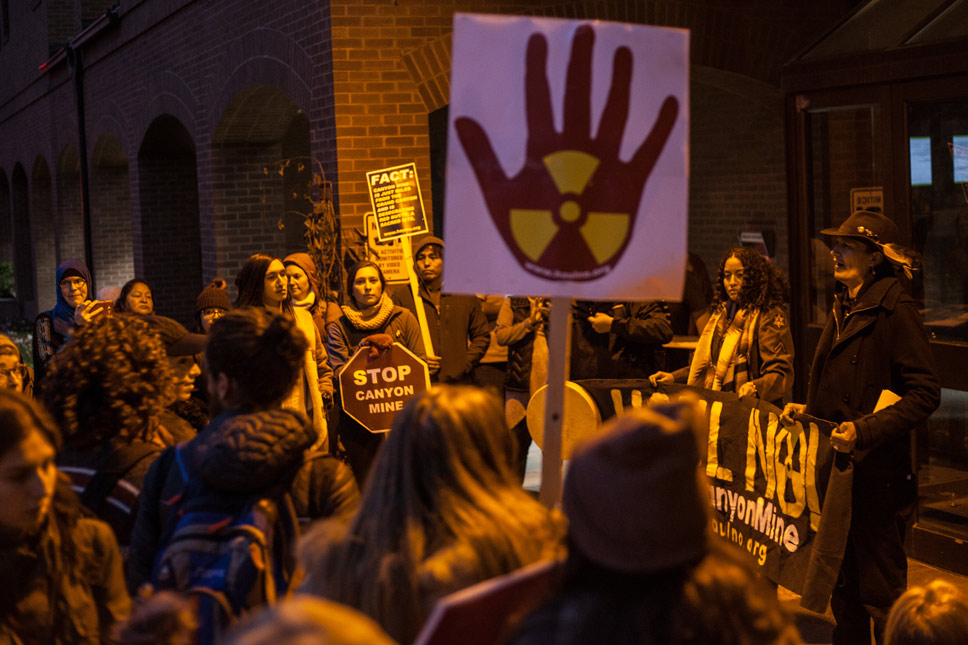 anyon Mine, located just six miles from the Grand Canyon's South Rim.
The vote was 6 in favor and one, Councilmember Scott Overton, opposed.
Leilani Clark, a volunteer with Haul No! stated to the council, "Pass the resolution, pass an ordinance, do everything you can, because we the people, by any means necessary, will do whatever it takes to prevent trucks carrying poison to pass through our communities."
After the vote, Clark stated, "Tonight's action by Flagstaff City Council is one of many steps to address the historical trauma and suffering Indigenous Peoples have faced at the hands of the nuclear industry. We will do everything we can to ensure that our communities, sacred places, precious water, and the Grand Canyon are safe from
toxic uranium mining."
More than 100 people packed the council chambers with overwhelming support for action to go beyond a symbolic resolution. Those in attendance expressed concerns with the possibility of up to 12 trucks a day carrying 30 tons each of high grade radioactive uranium ore from the Canyon Mine. The uranium ore would be hauled a total of 300 miles, through Flagstaff and reservation communities, to EFI's controversial "White Mesa Mill" near Blanding, Utah, which is located on ancestral Ute Mountain Ute lands.
Regional Indigenous community members, including six representatives of the Havasupai Tribal Council along with representation from the Diné (Navajo), Hopi, Apache and Pueblo nations, were present to witness the passing of this historic resolution. State-wide solidarity was felt throughout the evening as Arizona residents from as far away as Phoenix and Tucson came to show their support for the Council to pass the resolution, and to push for a future ordinance.
Ophelia Watahomigie-Corliss, Havasupai Tribal council member spoke on behalf of the entire Tribal council in support of the resolution and an ordinance, "For longer than 40 years the Havasupai Tribe has consistently used whatever means we have to oppose uranium mining on the Colorado Plateau. We see the mining of uranium and heavy metal in our areas as a threat to our water, our land, our sacred sites, and our very survival as a people."
Watahomigie-Corliss stated that she was aware of concerns from the Flagstaff council regarding possible conflicts with Federal jurisdiction if an ordinance was passed, "there is also power in trying to create precedence for the people for positive movement that will last lifetimes after your term." Watahomigie-Corliss also address concerns with the Trump administration's recent announcement that they are considering lifting a 2012 moratorium on new uranium mines around the Grand Canyon. "This makes our cooperation all the more urgent. We all call this land home and need to join together in the effort to protect our citizens and environment from the adverse affects of mining uranium."
Canyon Mine is located near Red Butte, a sacred mountain and Traditional Cultural Property for the Havasupai Nation. The Havasupai Nation has legally challenged the US Forest Service due to failure of completing meaningful consultation regarding Canyon Mine in their 1986 Environmental Impact Statement. A decision from the 9th Circuit Court of Appeals could come any day.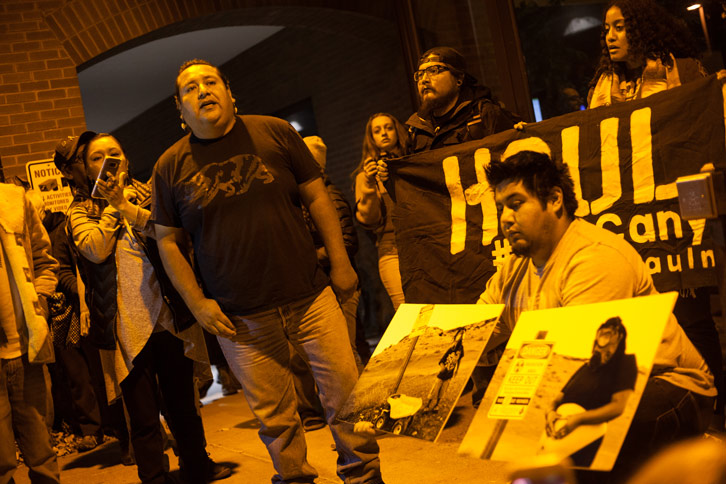 Milton Tso, President of Cameron Chapter on the Diné Nation brought the threat of uranium mining into perspective as his community has more than 100 abandoned uranium mines. While he spoke before the Flagstaff council, his son held photos of signs warning of the dangers of radioactive exposure, "This is our reality in Cameron. These signs exist near homes, next to kids. If this goes through Flagstaff, it will go through my town. We are not just against uranium mining, but any type of mining that destroys our water and for many, we take uranium personally. I have a grandfather who is dying slowly, he was a mine worker and they were not educated on the dangers of uranium. So this personally affects me, as well as my little sister here who's going to have a baby. They live right below this sign. The danger is not the question of if an accident is going to happen, but when. In my town we are ill prepared for something like that. We're not trained to clean up big spills. We're still dealing with open pits around my town. I've lost a lot of relatives to cancer, a lot of my people around Cameron have got cancer from the mines. It's there and we're being ignored. Please take a stand and fight that." stated Tso.
Wenona Benally, a member of Arizona House of Representatives, Dist. 7, attended the meeting and committed to support the Flagstaff Council's push to address uranium mining and transport on the state and federal level.
Benally, stated, "Tonight, State Senator Jamescita Peshlakai, State Representative Eric Descheenie and I issued a written statement to the Flagstaff City Council, supporting the adoption of Resolution No. 2017-38, opposing the transportation of uranium ore through the City of Flagstaff and Indigenous lands. Our district is notoriously known for its toxic legacy of uranium mining. We thank the City of Flagstaff for adopting this resolution and agreeing to join us in the fight to stop the cycle of poisoning that has taken the lives of our people and destroyed our communities."
Right before the resolution went to vote, Flagstaff Mayor Coral Evans shared, "I want to talk about the constitutionality and legality part of it. In his 'Letter from Birmingham Jail,' Dr. King writes about something he calls just and unjust laws. I would say that in this country,, historically we have seen several laws over the course of time be changed or overturned because we, the people, have determined that they were unjust."
Mayor Evans challenged all council members to pass the resolution with a 7-0 vote.
"The legacy of uranium mining in Northern Arizona is unjust. I believe that it has been clearly shown through the routes that this ore takes… [and] clearly shown through the level of cancer and cancer related death experienced by the Indigenous People in our region.
We have Indigenous neighbors that have been fighting and asking for relief on this issue for decades, for generations. And they are asking us, as the largest city in Northern Arizona, to help them."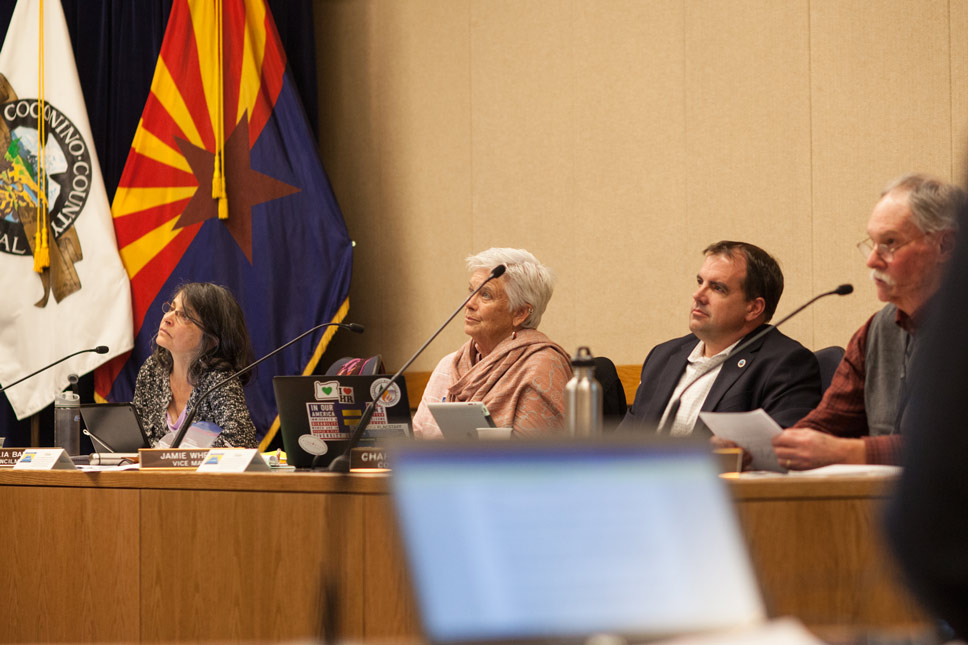 Councilmember Celia Barotz motioned to vote and was seconded by Councilmember Eva Putzova.
Barotz stated, "Before we vote on the resolution I just want to remind everyone that this is just the beginning and that were going to need all of you to help us through the various processes at the state and federal level if we're going to make meaningful changes over the next several years. The city council certainly cannot do it alone so I just invite all of you to stay engaged this is the beginning."
Putzova issued a statement after the vote saying, "With this resolution, the Council is rallying behind the Native American communities in their fight for social and environmental justice. I'm looking forward to working with our congressional representative and state representatives on legislation that bans uranium mining and the transport of uranium ore for good."
After the vote in favor of the resolution the crowd erupted in cheers.
Haul No! has been successful in gaining resolutions opposing ore transport from Diné communities such as Cameron, Coal Mine, Oljaito, Monument Valley, Kayenta, Western Navajo Agency, and from the Hualapai and Havasupai Tribes.
Flagstaff is the first off-reservation community to pass a resolution and could be the first community to pass an ordinance challenging Federal authority regarding transport of uranium from Canyon Mine.
More information and action: www.haulno.com
###